Bright white teeth have become an important symbol in today's society, people often judge us based on how white our smiles are. Bright white smiles have become so important that people spend huge amounts of money on bleaching kits to clean up their smiles. Today people can choose from dozens of different cleaning kits all that promise to give them a perfectly white smile. The only problem is that these products don't always get the discolouration off all of a person's teeth.
For some people there is extra discolouration on just one tooth. Bleaching a single tooth can be very difficult and challenging for someone to fix. The vast majority of teeth bleaching products are not designed to work on a single tooth. They usually come in mouth guards or strips that are applied directly to a person's teeth all at once. One of the teeth whitening systems on the market that can work on a single tooth is a whitening toothpaste that is applied to the tooth every day. Home based methods are simply not designed to work on a single tooth, something that specific has to be done by a dentist. There are now procedures dentists can do to clean a single tooth but even those are not fool proof.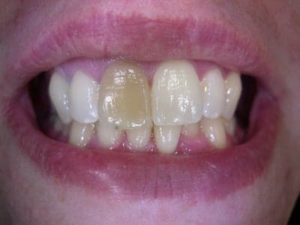 The troubles of cleaning a single tooth are so big many dentists struggle to overcome them. Many people prefer to go down the path of restorative treatments like veneers or crowns but this can get quite expensive. Even when it is for a single tooth making it an option only for those who can afford who or who have a problem so severe their insurance will cover it. Because of how expensive veneers are, some dentists are now offering bleaching treatments for singular teeth to help them reach a more aesthetic look.  Before they do any whitening procedures a dentist will go over the pro's and con's with the patient. More often than not patients don't actually need a whitening procedure done to fix a stained tooth.
All they really have to do is change their eating, drinking, and cleaning habits. The best way to start is to slow down on any food or drinks that create tooth stains like coffee, soda, or sauces like soy. Then start using a tooth whitening toothpaste and mouthwash. Using these steps will help remove the staining from not just one tooth all of them while making sure it doesn't come back.